---
½ Cup Salted Butter

2 Cups Superfine Almond Flour

2 Large Eggs

¼ Teaspoon Xanthan Gum
---
Instructions
Preheat your oven to 350 degrees
In a mixing bowl, beat the ½ cup butter (1 stick) until smooth. Add in the 2 cups almond flour and the 2 egg whites and mix well. Stir in the ¼ tsp Xanthan gum.
Roll the dough into a log shape in parchment paper or saran wrap and place in the freezer for at least 30 minutes to chill before moving on.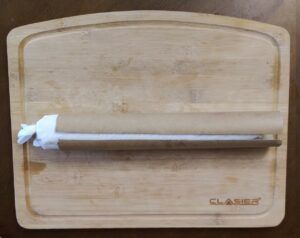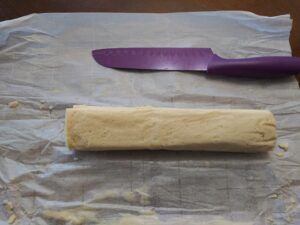 After 30 minutes, remove dough and unroll from parchment paper. With this method, you can simply slice the "log" in ¼ inch slices for your crackers. 
Line the cookies on an ungreased, non-stick cookie sheet. You do not need to leave much space between each cracker. Using a fork, lightly poke holes in the top of the crackers and sprinkle some pink Himalayan salt (regular table salt works fine too) across the top.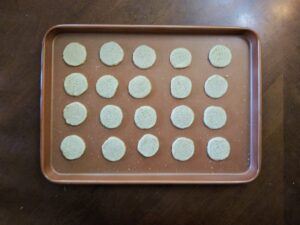 Bake crackers at 350 degrees for about 8 minutes. Check them at 6 minutes, in case yours are cut a little thinner. Remove crackers from the oven once you see them begin to brown around the edges. 
** If you want to make sure you have a perfectly round "Ritz" like cracker, rather than freezing the dough in the log shape, just leave it in a ball. Once you remove it from the freezer, use a rolling pin and roll the dough out to a ¼ inch thickness. You will need to use a round cookie cutter or something similar to get the round shapes. 
This dough becomes soft and very hard to work with quickly, so after you roll it out and use the cookie cutters where you can, you may have to re-freeze the remaining dough (the scraps left between the cookie cutters) in order to roll it out again and use more of the dough. This is one more reason why I like to use the other method. 
---
Keywords: Keto Snacks, Keto Crackers, Low-Carb, Keto Friendly