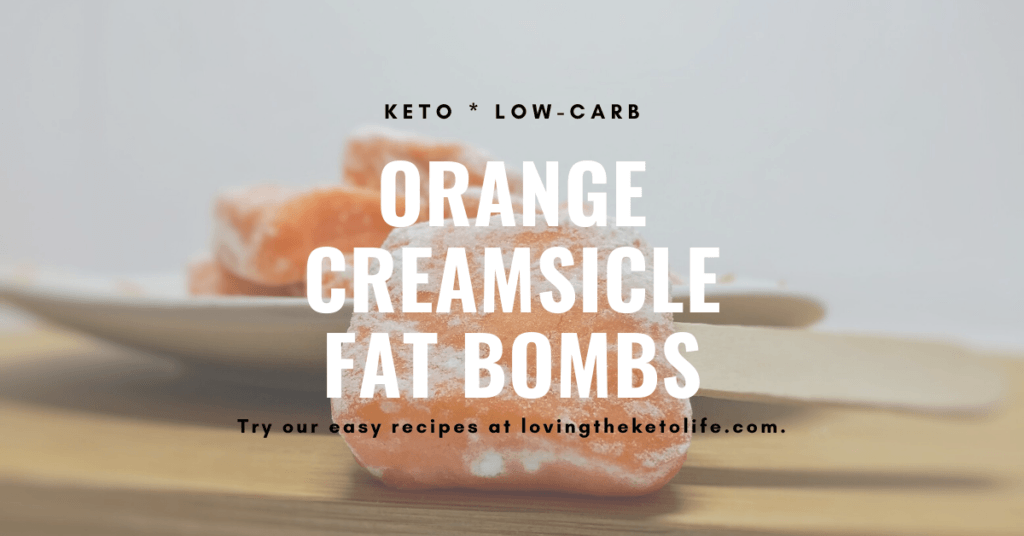 Please note that this article may contain affiliate links.  This means that if you buy something through one of my links, I may earn a small commission.  You can read my full disclosure here.
I have to start off by saying, these are my absolute favorite dessert/fat bombs I have had since I began the keto diet. Even my family members who are not doing keto love these and I hope you do too. 
I first saw this recipe on KimspiredDIY. She has a lot of great low-carb recipes. There are several other similar recipes out there for Keto Orange Creamsicle desserts but this one is by far the easiest recipe with the best flavor. 
If you are a fan of the original orange creamsicle ice cream bars, you will love these. It is amazing how much they taste like the original, only without all the sugar. 
With just 5 ingredients and less than 1 carb, this is a great option to satisfy that sugar craving and take in some extra fat at the same time.
Print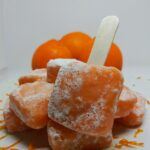 Orange Creamsicle Fat Bomb | Orange Ketosicles
---
1 ⅓ cup ChocZero sugar free white chocolate chips
½ cup heavy whipping cream
1 – 3 oz box of sugar free orange jello mix
1 TBSP orange zest
2 TBSP Swerve powdered sugar
---
Combine the sugar free white chocolate chips and heavy whipping cream in a microwave safe bowl. Stir to combine.
Microwave in 20-30 second intervals, stirring between intervals, until melted. 
Stir in the package of sugar free jello mix and orange zest.
Once all ingredients are combined, you can create your fat bombs using a silicone mold or rolling them into balls. 
I like to use a silicone mold like the one below. When doing this method, prepare your mold by lightly spraying the mold with an olive oil or coconut oil spray and then coat with swerve confectioners sugar. 
Once your mold is prepared, simply pour the orange creamsicle mix into the molds and set into the freezer to harden. Once they are frozen, you should be able to flip the mold over and pop them out one at a time.
If you do not have a silicone mold, simply put your orange creamsicle mix in the freezer for about two hours until it begins to firm. 
Once it has begun to harden, use a small cookie scoop or a spoon to create 1" balls. Roll each ball in swerve confectioners sugar. 
---
Keywords: LovingTheKetoLife KetoRecipes
Nutrition information is provided as a courtesy using Nutrifox and can vary depending on individual brands used.