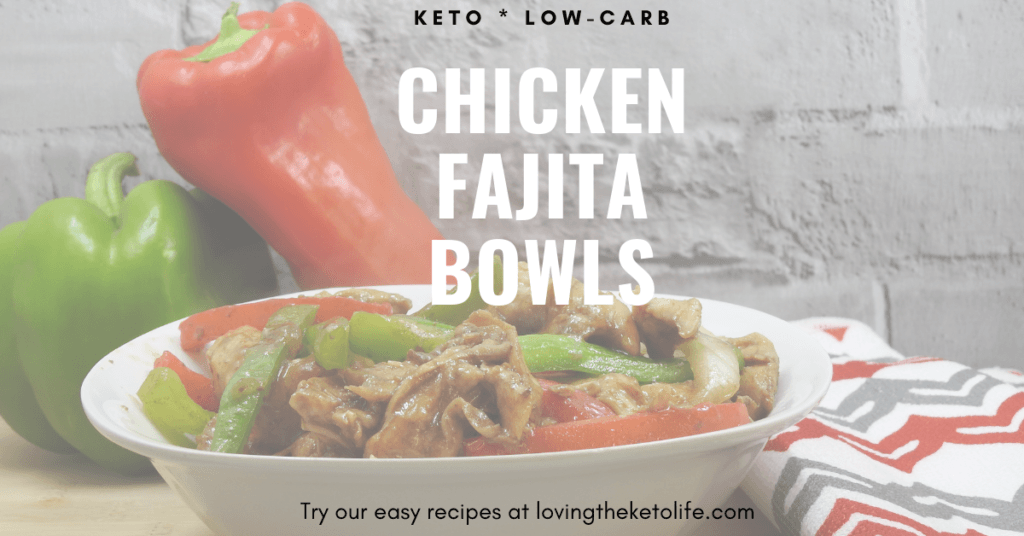 Please note that this article may contain affiliate links.  This means that if you buy something through one of my links, I may earn a small commission.  You can read my full disclosure here. 
These Easy Keto Chicken Fajita Bowls are a perfect weeknight dinner. They can be on your table in less than 30 minutes. You can even pick up the chicken that is already sliced for you, and it will be that much easier. 
This is another low-carb version of an all-time favorite recipe that my family has had since I was a kid. These chicken fajita bowls are packed full of protein but contain a small amount of your daily carb count.
Top with a few slices of avocado, some sour cream and shredded cheese and you have a delicious keto meal. One serving will provide you with approximately 25 grams of protein. With the additions above, you can add a generous amount of fat to meet your daily macros as well.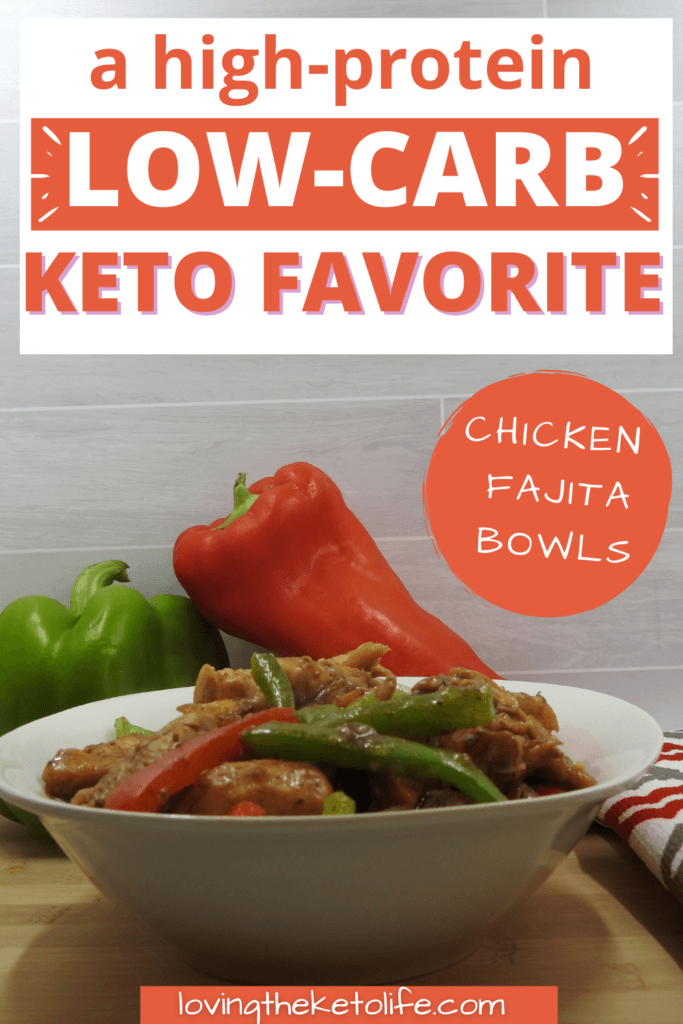 Another thing I really love about this recipe is its versatility. This recipe is great with chicken or beef. If you have family members who are not eating keto, they will also love this recipe and they can eat it with a tortilla and you can opt to have yours in a bowl, or on a low-carb tortilla.
Print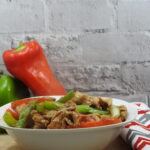 Easy Keto Chicken Fajita Bowls
Author:

Melissa

Prep Time:

10

Cook Time:

15-20 Minutes

Total Time:

25-30 Minutes

Yield:

4 Bowls
---
1 lb Chicken breasts – cut into strips 

or 1lb pre-cut chicken strips

2 Bell Peppers (I like to use a variety)

½ white or red onion

½ cup soy sauce

1 tsp Ground Ginger

1 tsp Crushed Garlic

2 TBSP Olive Oil
---
Instructions
Trim the fat and excess skin off your chicken breasts and cut into thin strips. Rinse and set aside.

Prepare your bell peppers by cutting off the top and bottom and removing the seeds from the center. You can then cut them into slices. I like to slice mine into about ½ inch slices but this can be done to your preference. Rinse and set aside.

Slice onion and set aside with prepared peppers.

In a mixing bowl, whisk together the soy sauce, garlic and ginger.

Add the chicken and toss to cover all pieces.

Heat olive oil in a skillet on medium high heat. Once hot, add chicken and stir until chicken is white on all sides.

Reduce heat to medium low and simmer for 15 minutes, or until chicken is cooked through.

During the last 5 minutes, add the peppers and onions. You want these to cook with the chicken but you do not want them to get too soft.
Enjoy!
---
Notes
If you end up with too much liquid at the end, you can thicken it to a sauce. In a cup, combine one cup cold water and 1 tbsp corn start. Mix it really good. Turn the heat up to medium on your fajitas and slowly stir in your water/corn starch mix until you reach the desired consistency. You may not need the entire cup. Your sauce will thicken fast. Turn the heat back down to low (or off) and Enjoy!
Keywords: Keto, Low-Carb, Chicken Fajitas
You may also like to try my Asparagus and Bell Pepper Steak Roll-Ups recipe. This is another great low-carb, keto friendly dinner recipe the whole family will love.
Have you made this recipe? Maybe you found the best Keto friendly topping that pairs perfectly. Leave me a comment below with your feedback or a picture.