Anyone who knows me, knows I LOVE Mexican food. Pork Carnitas are my absolute favorite Mexican food and I think I would be lost without being able to still have some amazing Mexican food while on the Keto diet. 
This recipe for Pork Carnitas Street Tacos has a total of 5.8 carbs including the tortilla if you use my recipe for Almond Flour Tortillas. The Pork Carnitas by itself only has 1.2 carbs and 8.5 grams of protein.  
I found this recipe many years ago on SmittenKitchen.com and it is by far the best pork carnitas recipe I have found. I have made a slight adjustment to the original recipe.
There are many other great recipes on that website also so you may want to check it out sometime. It is not a website focusing on the Keto diet or low-carb recipes so just make sure you are watching the carb count.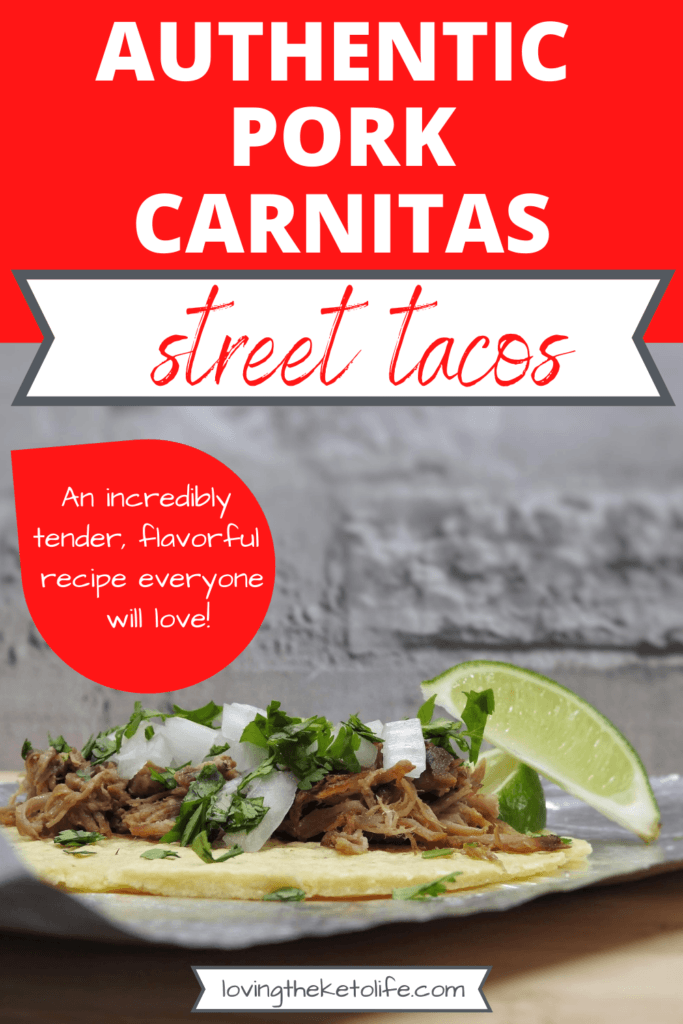 Print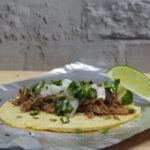 Pork Carnitas – Street Tacos
Author:

Melissa

Prep Time:

15 Minutes

Cook Time:

2 Hours and 45 minutes

Total Time:

3 Hours

Yield:

12
---
¼ cup lime juice

½ cup orange juice

2 teaspoons minced garlic

1 teaspoon cumin

1 teaspoon salt

2 pounds boneless pork butt cut into chunks. I usually cut mine into about 3" x 3" pieces.
---
Instructions
In a mixing bowl, whisk together the lime juice, orange juice, minced garlic, cumin and salt. 
Add your pork to a heavy pot or dutch oven. 
Pour the combined juice/seasoning mixture from above over the pork and add just enough water to cover the top of the pork. 
Bring the pot to a boil then reduce the heat to a simmer. 
Simmer uncovered for two hours. Do NOT touch the meat during this time. 
After simmering the meat for two hours, increase the heat to medium high and continue cooking for about 45 minutes, while occasionally flipping the pieces of pork. You may need to adjust this time frame a bit. You want all the liquid to be evaporated leaving just the rendered pork fat.
Once the liquid is all absorbed and you are left with just the rendered pork fat, let the meat brown in the pork fat for a few minutes, flipping as needed. The pork should fall apart easily. 
Serve on your warm, low-carb tortillas with your desired low-carb toppings.
Enjoy! 
Recipe Notes
Topping your street tacos with a few diced onions and cilantro does not contain enough carbs to change the carb count.
Adding avocado to your taco is a great way to get some healthy fat into your diet. A ½ cup of sliced avocados only adds 1 net carb but contains 11 grams of fat. 
I typically double this recipe. It still comes out great and I use it with many other recipes or freeze it using my food saver for an easy meal later.
If you have a Winco near you, they usually sell packages of pork already cut into chunks for Carnitas. Most of these packages are usually around 2lb packages which works perfectly.
---
Nutrition information is provided as a courtesy using Nutrifox and can vary depending on individual brands used.